Anchor Bar
1047 Main St, Buffalo, NY 14209, United States
When my husband and I were in Fort Erie two weekends ago, he suggested going to Anchor Bar in Buffalo, New York. The Main Street location in Buffalo is the home of the original buffalo wing, back in 1964. We would have had to cross the Canada-United States border, but it was only going to be a 20-minute drive away from where we were. I am always up for chicken wings so I quickly agreed to go…
Anchor Bar's parking lot was full when my husband and I got there and the restaurant seemed packed, but it didn't take long for them to seat us. The restaurant was pretty big, with several rooms, and their bar was in the main room. I really liked how the restaurant was decorated – they had license plates on their walls and motorcycles on a ledge around the bar area.
My husband and I were surprised when we took a look at the menu because the prices were reasonable. Usually, I get beer or wine when I go to a bar-type restaurant, but I noticed their local spirits cost $7 so I decided to give the Southern Tier Smoked Bourbon Whiskey a try. For my meal, I got the single order of the Spicy garlic parmesan wings and my husband ordered a large Cheese and pepperoni pizza (so we could bring home most of it) with 5 cajun rub wings on the side.
I was pleasantly surprised when my whiskey came and I saw that they had given me two shots worth (which I think made my husband feel less guilty for stealing sips of it…). The Southern Tier Smoked Bourbon Whiskey was (you got it) smokey and had body to it. Their wings had a lot of meat and they were soft and juicy. The spicy garlic parmesan flavour on my wings wasn't over-powering but it was tasty, with buffalo sauce as the base and garlic and Parmesan cheese sprinkled on top. The large cheese and pepperoni pizza came fresh out of the oven. There was a lot of cheese on it, so much so that when we put a slice on our plate, the cheese was still connected to the rest of the pizza. The sauce was tomatoey and sweet so it made it easy to consume, and the pepperoni was crispy. The dough was also crispy on the outside, but soft on the inside; it was like fresh bread and seemed like it had been hand-stretched.
I didn't realize that Anchor Bar had so many locations in the U.S. and even a couple in Ontario. Since we had to pay an 8 USD toll after we crossed the border when coming back into Canada, we might stick with the Burlington or Hamilton location next time, but it was definitely a great experience going to Anchor Bar in Buffalo. The Ontario locations have a lot to live up to. 😉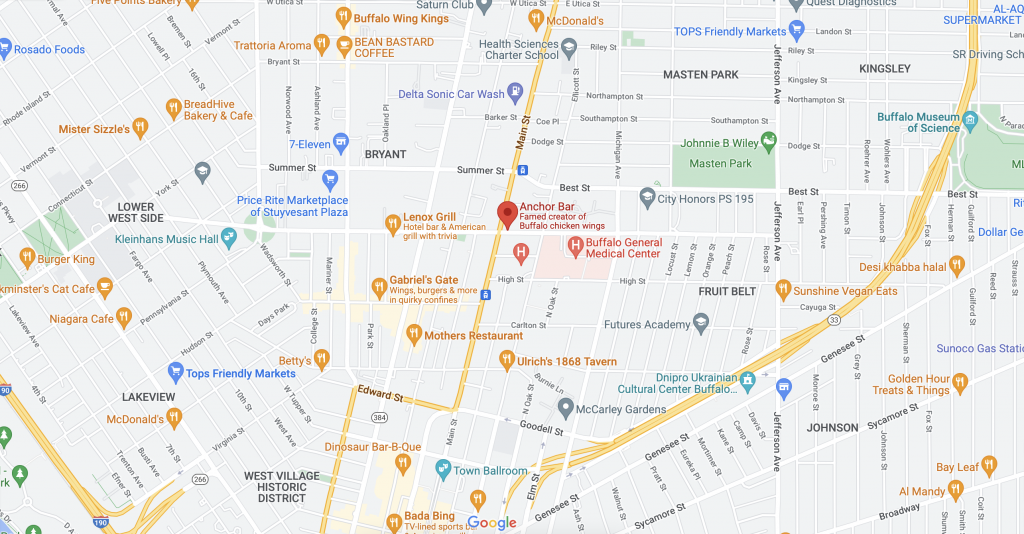 ---