Bleecker Street Pizza
69 7th Ave S, New York, NY 10014, United States
My coworker told me about Bleecker Street Pizza, "an amazing pizza place" in New York City, so we decided to try it when we went in 2016. It ended up being our favourite meal in NYC and that is why 4 years later, I am blogging about it even though I don't have many photos to include because I didn't take photos of "all" my food back then. 😂 I've also been reminiscing the days before the COVID-19 pandemic when we could still travel and eat in restaurants.
We wanted to get there right when they opened because I read online that it gets really busy, a definite sign that the restaurant is good. We ended up getting there too early, but the owner let us sit inside while they started making the pizza for that day. The owner and his staff were really nice and friendly to us when we were waiting, so right away, we had a good impression of Bleecker Street Pizza.
We tried a slice of the pepperoni and sausage pizza, the chicken pizza, and the one they are known for, the Nonna Maria. Each one of those pizzas was really delicious. The pizza toppings and sauce were flavourful and the pizza crust was unique, crispy, and put simply, amazing! We wanted to go back again before we left NYC, but didn't end up having enough time.
When another coworker told me he was going to NYC a few months ago, I told him that he really needed to try Bleecker Street Pizza (kind of paying it forward). He tried it when he went and was raving about it when he came back to work.
My thoughts and prayers go out to the people in New York and the world. I hope everyone stays safe during this trying time. I hope I can come back to NYC someday soon so I can take photos that do Bleecker Street Pizza's pizza justice.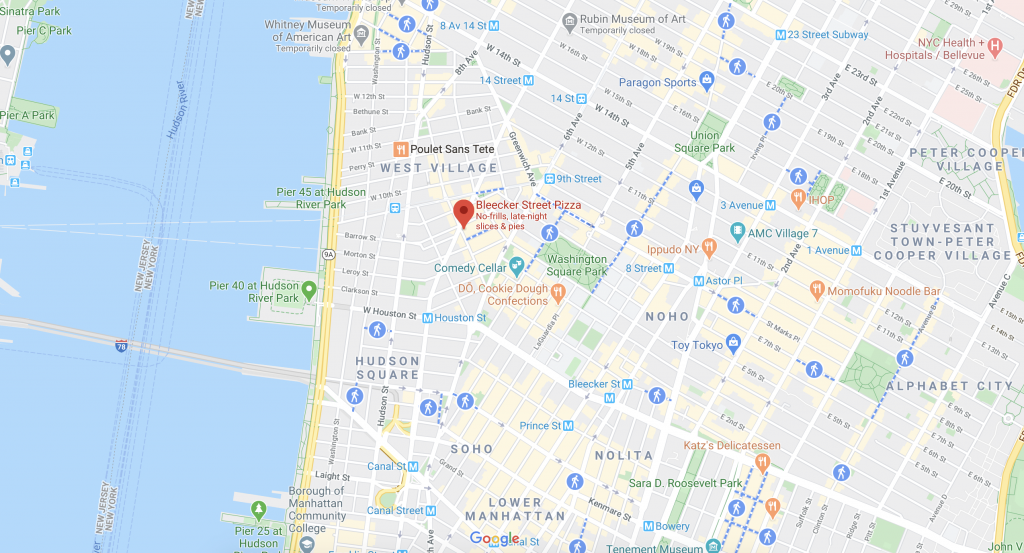 ---