Brazen Head
165 E Liberty St, Toronto, ON M6K 3K4
Whenever I think of Brazen Head, an Irish pub in Liberty Village, it brings a smile to my face. I previously worked at a company nearby so my coworkers and I went there often for lunch and after work. It always brings back good memories. Unfortunately, since I no longer work in the area, I don't go to Brazen Head much anymore so my husband and I grabbed the chance to have lunch there when we rode our bikes along Toronto's waterfront last summer.
Liberty Village has changed a lot since the last time I was there. It has many more condos and stores now, but Brazen Head is still as great as it was previously. Like most of the buildings there, the restaurant looks like it was converted from a former warehouse and it has a nice patio as well. Brazen Head's bar has a huge selection of liquor and they have some good deals on their alcohol – $4 for shots of quality liquor, such as Bushmills, $8 for 20 oz of the beer on tap, and $13 for 32 oz of the beer on tap.
To soak up some of the alcohol we ordered, I got the Fish' N Chips and my husband got the Corned beef on rye for lunch. The fish in my Fish' N Chips had a very crispy batter with sea salt sprinkled on top, and the french fries were very soft and tasty (I always liked their fries). The meat in my husband's Corned beef on rye was flavourful and tender, and the bread was perfectly toasted.
The food at Brazen Head was as good as I remembered. In fact, there has never been a time when I didn't think their food was delicious. See, I'm smiling again… I would say it is the Irish pub that has given me a soft spot for all Irish pubs. ☘️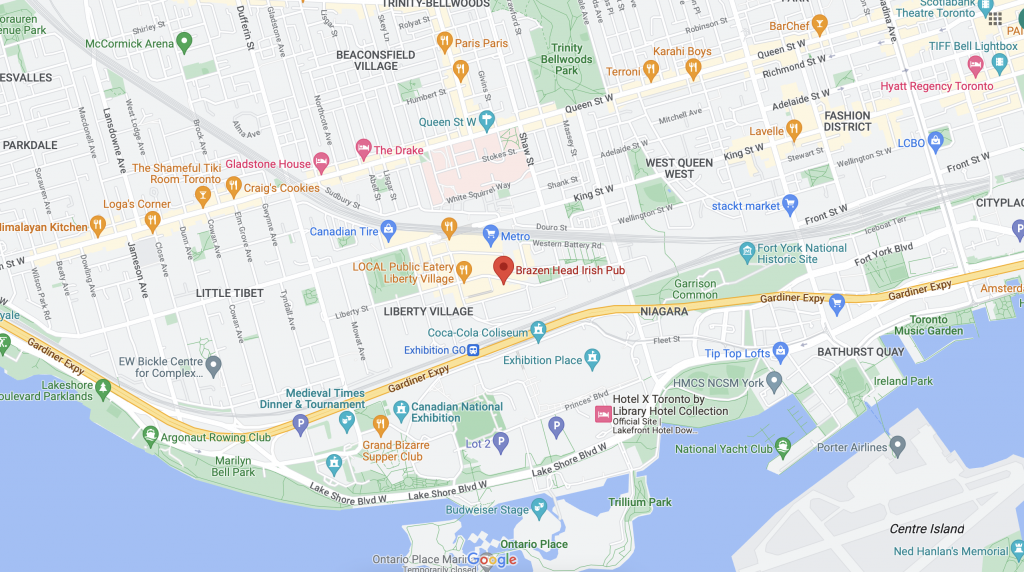 ---