B's Kitchen
3550 Rutherford Rd Unit 88 & 89, Vaughan, ON L4H 2T8
Ordering products online is very convenient (and if there's free shipping – bonus!), except for if you need to exchange or return the item. I need to estimate my size more accurately. 😂 That is how my husband and I ended up at Vaughan Mills – so I could exchange the Crocs I got for a different size. Since we were in Vaughan, I wanted to go for lunch so we could try a new restaurant in the area. B's Kitchen ended up being my choice and it was a winner.
B's Kitchen is a 5-minute drive from Vaughan Mills so it is a good option if you don't want to eat at the mall. It is one of the more modern-looking Vietnamese restaurants I've been to but yet their prices were similar to other Vietnamese restaurants. The restaurant was also very clean and our waiter was welcoming and friendly. It gets better…
The menu at B's Kitchen is pretty extensive. There is a vermicelli option where you can make your own vermicelli bowl by choosing two items (each additional item is +$3) from a list of grilled pork, grilled chicken, grilled beef, spring roll, shredded pork, pork sausage, minced shrimp on sugarcane, and fresh roll. I wasn't sure if the fresh roll only had vegetables or if it had shrimp as well so I asked the waiter, and the answer was shrimp and pork. 😀 It was no contest after that. For my main, I chose the vermicelli with grilled beef and fresh roll and my husband picked the stir-fried beef noodle soup. We also ordered some deep-fried spring rolls to share.
The spring rolls were very crispy, light, and had tasty pork inside. The grilled beef with my vermicelli was lean and deliciously grilled, the fresh roll had fresh ingredients with the pork being thinly sliced, and the vermicelli was the perfect consistency. My husband let me try his stir-fried beef soup and it was very flavourful, clean, and fresh. He said the stir-fried vegetables with his dish became sweeter in the soup, and the beef was quality meat. All the portions were a good size and they even gave us dessert. I had never gotten dessert at a Vietnamese restaurant before!
B's Kitchen is close to being my new favourite Vietnamese restaurant and I hope you can see why. I wanted to move to Vaughan in the past. If I had, I would be going to B's Kitchen all the time. For now, I will have to settle for…I'll be back.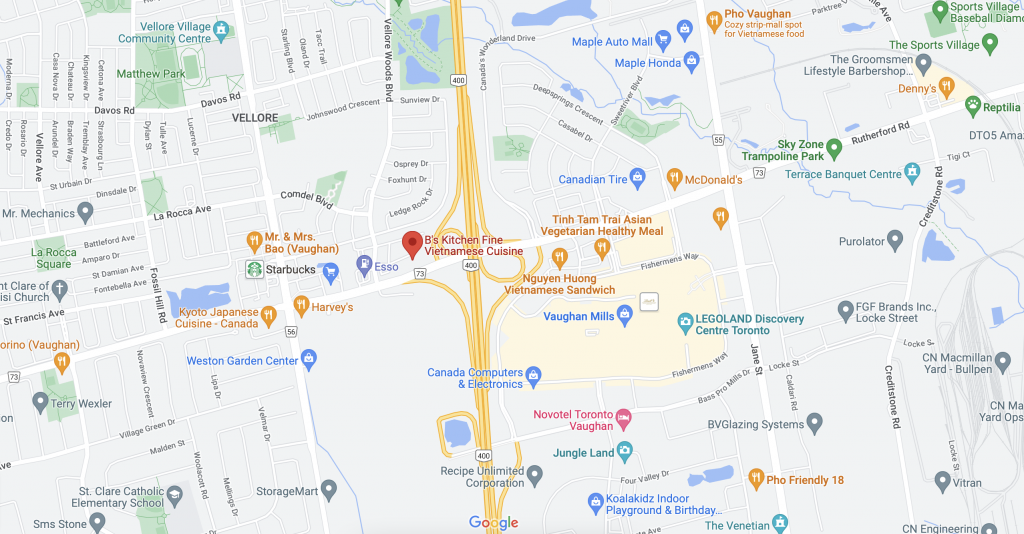 ---