Buster's Sea Cove
93 Front St E, Toronto, ON M5E 1C3
I don't know if I'm the only one, but I find it really difficult to find good lobster in the GTA. Most restaurants in the GTA that serve lobster only have lobster tails, except for Red lobster and Chinese restaurants, but Prince Edward Island is a different story since it is near the North Atlantic Ocean. If you love lobster, you should go there! 🙂
PEI even has lobster rolls at their McDonald's, which I like about McDonald's…their restaurants in different countries or states/provinces sometimes have additional items on their menu that are related to that country, state, or province's geographical location or local dish. I tried the lobster roll at a McDonald's in PEI when I was there a few years ago, but unfortunately, I was not too impressed.
The reasons above are why when I recently came across an article in Toronto Life on the best PEI lobster rolls in the GTA, I was curious and took a look. I noticed Buster's Sea Cove at St. Lawrence Market (which is always a fun place to wander around in) mentioned in the article so when my husband and I were downtown the other day, I convinced him to go to St. Lawrence Market for lunch.
Since my husband is allergic to lobster, he got a pizza slice from a neighbouring vendor, but I ordered the (I bet you can guess…) lobster roll from Buster's Sea Cove. It was $15.95 + tax so it wasn't cheap or that's what I thought at first, but after I tried the food, I changed my mind and actually thought they under-charged (shhh…don't tell them). I was not expecting the food at Buster's Sea Cove to be as good as it was, but it was amazing!
Although the roll seemed small, it was actually the perfect size because what I cared about most was the lobster. The lobster meat was plentiful, fresh, and flavourful without having too much mayonnaise, which I find often happens with lobster rolls and crab salad. The lobster roll also came with coleslaw, two slices of dill pickle, and french fries (or salad, if you prefer). The coleslaw was made exactly the way I like it, a little vinegary and with minimal use of mayonnaise, and Buster's Sea Cove's french fries were really, really good. They were like McDonald's fries, but seasoned and didn't have the plastic feel that I find McDonald's fries has.
Buster's Sea Cove has the best lobster roll I have had in my life thus far. The one I had at the McDonald's in PEI doesn't even compare. (I actually love McDonald's. Sorry to sound like I don't…) I can't wait to go back to Buster's Sea Cove and try the other items on their menu if I can resist getting the lobster roll again.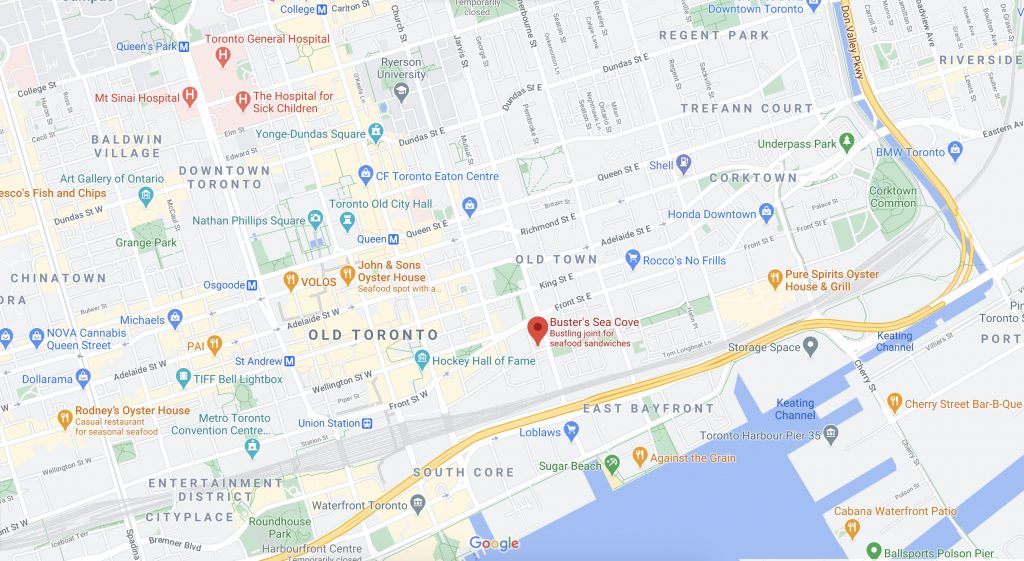 ---