Charleys Philly Steaks
100 City Centre Dr, Mississauga, ON L5B 2C9
Before I rave about food court Philly cheesesteak sandwiches, I wanted to mention that I haven't been writing blog posts as frequently lately because I haven't tried any new restaurants that have amazed me or their customer service put a damper on my enthusiasm for that restaurant. I also got a puppy 4 months ago and she consumes a lot of my free time. Maybe I will start doing blog posts on dog treat recipes. 😉
When my friend and I hang out, we often go to Square One because it is a central location for us, it has stores we like, and their food court has good food, especially Charleys Philly Steaks. I was trying to think of a place to blog about for the past month. I would write a sentence about other restaurants and wasn't motivated to continue. Then, Charleys Philly Steaks came to mind and I was surprised I didn't think of them sooner. To be honest, I didn't even remember their name until I looked them up to write this blog post. I just knew I love the Philly cheesesteaks from "that place" in the Square One food court.
My friend and I have only tried the Philly Cheese Steak Sandwich at Charleys Philly Steaks, which was made with USDA choice steak cooked on a flat top with onions, green peppers, and mushrooms so it was made fresh. Provolone cheese was put on top a little before all of it was scooped onto a toasted bun, and lettuce, tomato, and mayonnaise were added. Note: Give it some time to cool before eating it, which I did not do…. The steak was seasoned well so it was flavourful, so much so that you don't even need the mayo if that is not your jam. The one I brought home to my husband didn't have mayo at his request and that Philly Cheese Steak Sandwich was just as tasty.
According to their website, Charleys Philly Steaks has been around since 1986 and has had a few different names. It was founded by Charley Shin in (nope, not Philly) Columbus, Ohio. They now have 700 locations in 46 U.S. states and 17 countries. The Square One location was the only one I knew about, but they actually have two other locations in Ontario – one in Etobicoke and one in Brampton. Surprisingly, those are the only 3 locations in Canada. Anyone want to open a franchise of Charleys Philly Steaks closer to the east end of the GTA? I promise I will be a frequent customer because their Philly Cheese Steak Sandwich is amazing!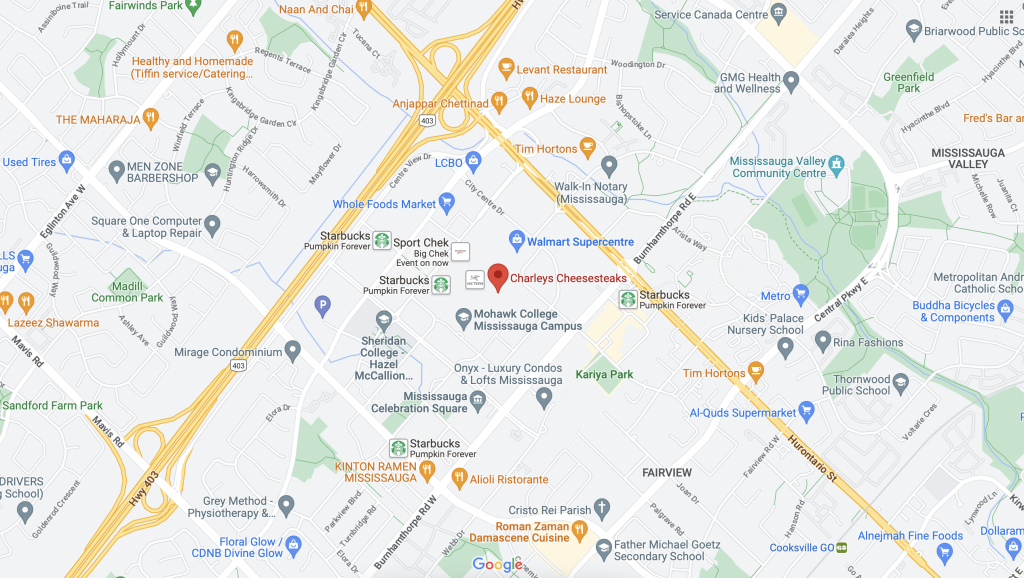 ---