Ibrahim B.B.Q. Shawarma
1967 Lawrence Ave E, Scarborough, ON M1R 2Z2
The Greater Toronto Area has a lot of great food and being so multicultural, you can find food from pretty much every ethnicity. I think the only other city that is similar in terms of variety is New York City. When this COVID-19 pandemic ends and restaurants reopen, maybe a staycation trying new restaurants in the GTA is in order…
One type of food I always enjoy is shawarma. I can't remember the first time I tried shawarma, but I've loved it ever since and my favourite place to get shawarma is Ibrahim B.B.Q. Shawarma. There are a lot of shawarma restaurants in the Warden and Lawrence area so it can get tough to choose between them. This one is a must-try.
I was first introduced to Ibrahim B.B.Q. Shawarma many years ago by someone I was dating at the time. He brought me there for some 2-for-1 shawarma wraps (currently $11.99 + tax). When my husband and I got together and we felt like shawarma one day, Ibrahim B.B.Q. Shawarma popped into my mind even though I had only been there that one time. It has become our go-to shawarma place ever since.
I would say it's more of a take-out restaurant because there are only a few small tables and it can get packed in there. There have been lineups out the door so it seems as though other people like it too… My husband and I usually both get the shawarma plates. They are currently $14.99 + tax, but when you see the amount of food you get, you will see why it's worth it. It is enough food to last us for at least 3 or 4 meals each. They also don't skimp on the meat at all. I would say sometimes there is more of it than rice.
My husband and I were tired of home cooking one day during the COVID-19 pandemic so we decided to get takeout from Ibrahim B.B.Q. Shawarma again. Maybe it's a testament to our home cooking abilities, but the food we got, a chicken shawarma plate for each of us (mine without potatoes), was even better than we remembered. It was so flavourful. The meat was plentiful, the vegetables fresh, and the rice was tasty. Mixed all together, it is like heaven in your mouth. Maybe I will see if my husband wants to get shawarma again tomorrow. 😉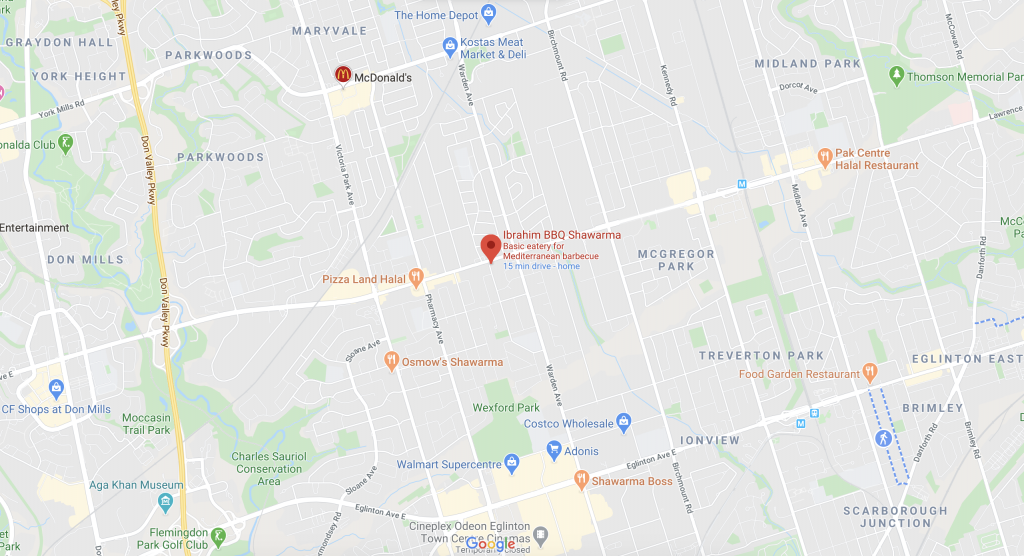 ---