Japanese Carbonara
The restaurant my best friend and I went to for her birthday this year, The Wilcox Gastropub, had a dish called Japanese carbonara. We ordered it because it sounded interesting…and it was delicious. Ever since then, I have wanted to try making it at home with similar ingredients.
What made their Japanese carbonara different from regular carbonara was that it was made with udon noodles instead of pasta, and it also had king oyster mushrooms and nori; hence the "Japanese" portion of the name. I added my twist to it in my recipe below (although as you can see from the photos, The Wilcox Gastropub's Japanese carbonara looks better).
---
Recipe
Level: Easy | Time: 45 min | Servings: 2
Ingredients
1/4 package of bacon
3 king oyster mushrooms
1 stalk of green onion
2 packages of udon noodles
1 egg
1 egg yolk
2 tbsp of parmesan cheese
1 tsp of sesame oil
1 tsp of minced garlic
Black pepper (to taste)
Cayenne pepper (to taste)
Directions
Chop 1/4 package of bacon and 3 king oyster mushrooms into little pieces, dice the green onion stalk, and put each of them in separate bowls.
Boil 2 packages of udon noodles in a pot for 1 minute, rinse them under cold water, add 1 tsp of sesame oil to the noodles, toss, and set aside.
Whisk the egg and egg yolk in a bowl, stir in 2 tbsp of parmesan cheese, and set aside.
Cook the pieces of bacon in a deep sauté pan until crispy.
Remove the cooked bacon from the pan and keep 1 tsp of the bacon grease in the pan.
Stir fry the king oyster mushrooms with 1 tsp of minced garlic in the bacon greased pan until cooked.
Put the boiled udon noodles into the pan with the king oyster mushrooms.
Sprinkle black pepper and cayenne pepper (if you like spicy) onto the noodles and mushrooms.
Stir fry for 1 minute and turn off the heat.
Pour the egg and parmesan cheese mixture onto the udon noodles and king oyster mushrooms, while stirring frequently.
Add the diced green onions and cooked bacon to the sauté pan, and toss.
Put the Japanese carbonara into 2 bowls.
Rip the nori into pieces and sprinkle them on top of the Japanese carbonara.
Serve and enjoy! 😊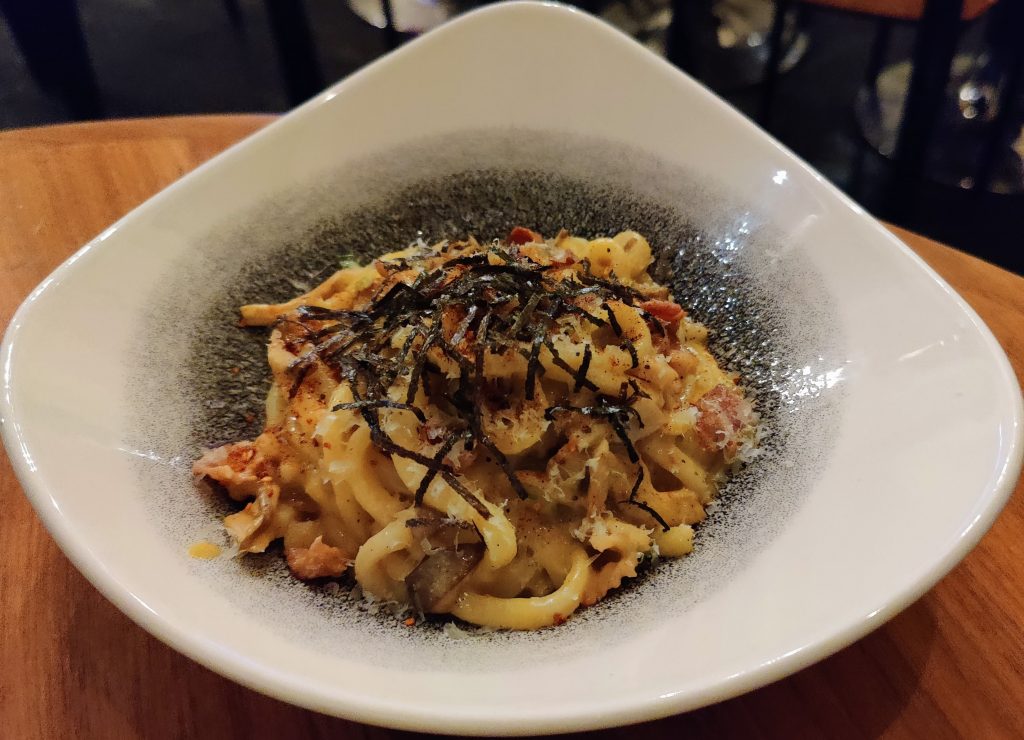 ---
If you want a good soup to make with this, check out my Creamed Corn Soup blog article.
---