Kabob Guys
4045 Sheppard Ave E, Toronto, ON M1S 1S8
It took me a while to find a good go-to Afghan grill restaurant. I have tried a few in the past and they were ok, but none of them wowed me. Kabob Guys at Kennedy and Sheppard was a different story though. I've seen Kabob Guys mentioned on a couple of blog sites or food reviews as being a restaurant with good food. Always on the search for amazing new restaurants to be my go-to if I am craving that type of food one day, I added it to my ever-growing list of ones to try.
My husband and I made it to Kabob Guys one evening and realized it replaced a burrito restaurant we had been to a few times so that explained why the restaurant looked pretty new. The first thing that impressed me about Kabob Guys was their customer service. The guy (possibly the son of the owner?) who took our order provided excellent customer service. He was friendly, joked with us, and also offered us dates because it was Ramadan and he said they offer it to all of their customers. For me, finding a restaurant that serves good food is #1, but finding one that also provides great customer service seals the deal for me on becoming a loyal customer.
I ordered the Waziri tandoori plate and my husband got the Waziri dinner plate. The food took a little bit of time because they had a bunch of other takeout orders to get through before ours, which is a testament to how great they are. Note: Since they make the food fresh to order, you should call to place your order ahead of time so you don't have to wait as we did. Other customers seemed to have already known this since we were one of the few that had to wait. I wish someone had given us that tip… 😉
The food was definitely worth the wait. The meat was juicy, fresh, and flavourful and the rice was delicious. The naan was also freshly made and slightly crispy on the outside but soft on the inside. I would compliment their salad too, but it had cilantro in it and I'm one of the rare few that don't like cilantro (shocking, I know). My husband liked it though so I ended up giving him some of mine.
We didn't want to finish our meals in one sitting because we wanted to save some of them for later. It was also a lot of food so we probably couldn't have finished it anyways. Either way, it's a kudos to them. I can continue raving about Kabob Guys for a while, but I have two questions…when can I go back and what do I want to try next? 😊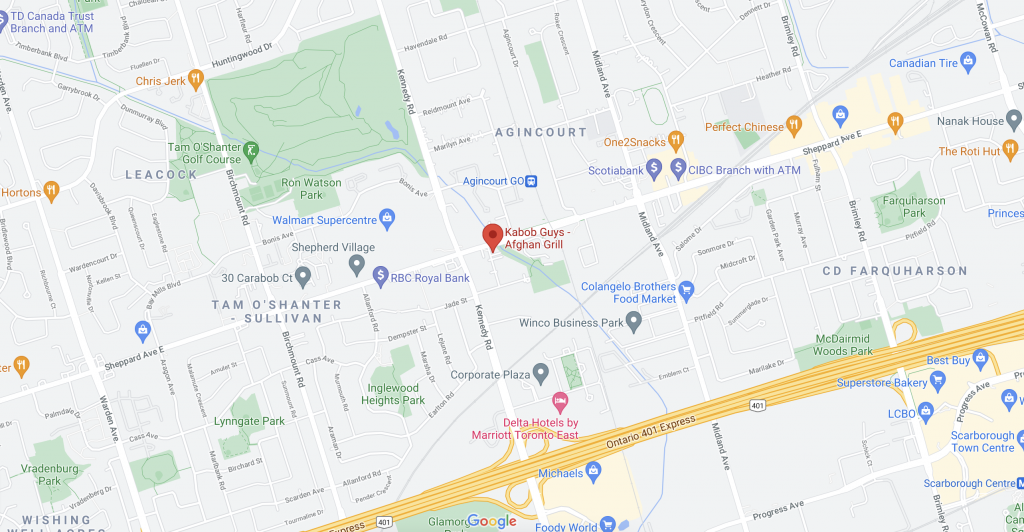 ---