Karaikudi Chettinad Indian Restaurant
1225 Kennedy Rd, Scarborough, ON M1P 4Y1
Indian food is delicious. I wasn't a big fan when I first tried it as a teenager, but I went for Indian food pretty often with a friend in my 20s and have come to love it. I have only had the chance to try home-cooked Sri Lankan food though so this blog article is going to be based on my taste buds instead of knowledge of authentic Indian food. 😉
An Indian restaurant I like going to is Karaikudi Chettinad Indian Restaurant on Kennedy, between Ellesmere and Lawrence. I can't remember how I discovered it since I have been going there for many years. The fact that I keep going back is a good sign though… Their food also tastes just as good when taken out, which we did during the COVID-pandemic, in style. We (only 2 people) had ordered kadai chicken, plain naan, full tandoori chicken, and chicken biriyani.
I convinced my husband to go to Karaikudi Chettinad Indian Restaurant again recently. As always, I ordered kadai (which means "wok") chicken, my husband got the butter chicken which is the dish he always gets, and we ordered some plain naan to share. The kadai chicken was a little sweet, spicy (which I appreciated), and very flavourful, and the butter chicken was creamy and buttery with a hint of coconut. The chicken in both our dishes was tender and the naan was perfectly baked and soft.
Essentially, the food did not disappoint and we took home a lot of leftovers. In case you were wondering, the food from Karaikudi Chettinad Indian Restaurant freezes and reheats well. We discovered that with our large take-out order.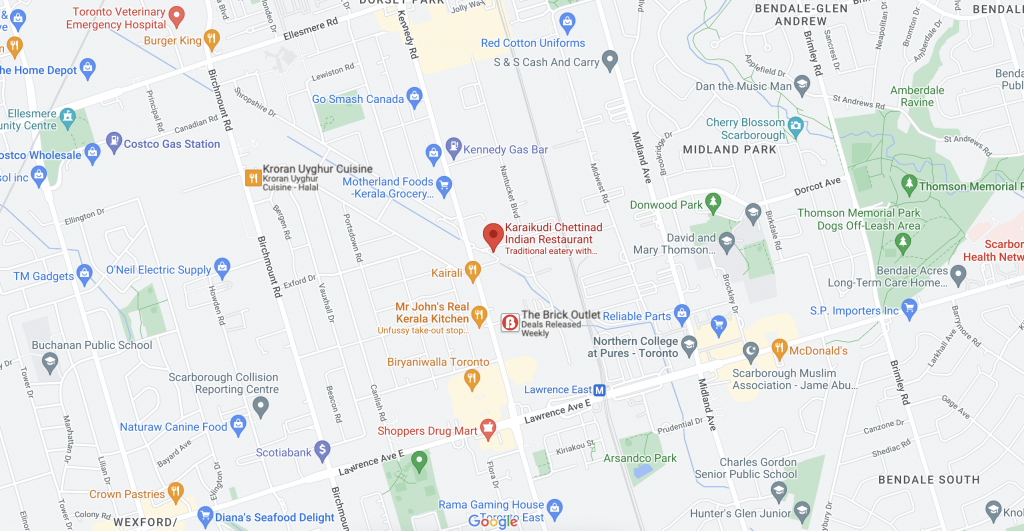 ---