Lageez
641 Pharmacy Ave, Scarborough, ON M1L 1X1
I love Indian food, but I don't have it often because although my husband likes it too, his body doesn't. It had been so long since I last had Indian food that I suggested having a free-for-all Friday dinner a couple of months ago so we could both get whichever take-out we wanted to eat, even if it wasn't from the same restaurant. It was pretty great because even though my husband and I usually like the same foods and often agree on what to eat, sometimes we want different things, and this allowed us to get anything we felt like eating that day. I want to do it again sometime…, but that's how I got to try Lageez.
Lageez is in a little plaza just north of Pharmacy and St. Clair Ave. so it's an unassuming restaurant. When you enter the restaurant, you are hit with the wonderful aroma of their food, even through your face mask. I had placed my take-out order prior to going there so I didn't have to wait. It seemed like everyone else had done the same thing as there were a bunch of orders ready for pick-up when I got there. I'd had a difficult time choosing just one main dish since their menu is expansive and I wanted to make my rare chance to have Indian food worth it so I ordered a few items – the chicken kadai, lamb biryani, and plain naan.
The food was delicious. The chicken kadai was flavourful and the chicken breast it was made with was tender, the lamb biryani was tasty, and the naan was freshly baked. Their food was also slightly spicy, which I liked. I wish more Indian restaurants in the GTA made their food spicy (or at least gave us the option to try the traditional version), but I can see why they don't want to do that – they need to appeal to the masses. I would do the same thing if I had a restaurant (hopefully I can make my dream a reality one day…).
If you are looking for good, decently-priced Indian food in the East End of the city, Lageez is worth a try. They appear to be family-owned and their food is authentic and delicious. Don't let the small plaza it's in fool you…it's a gem! 😊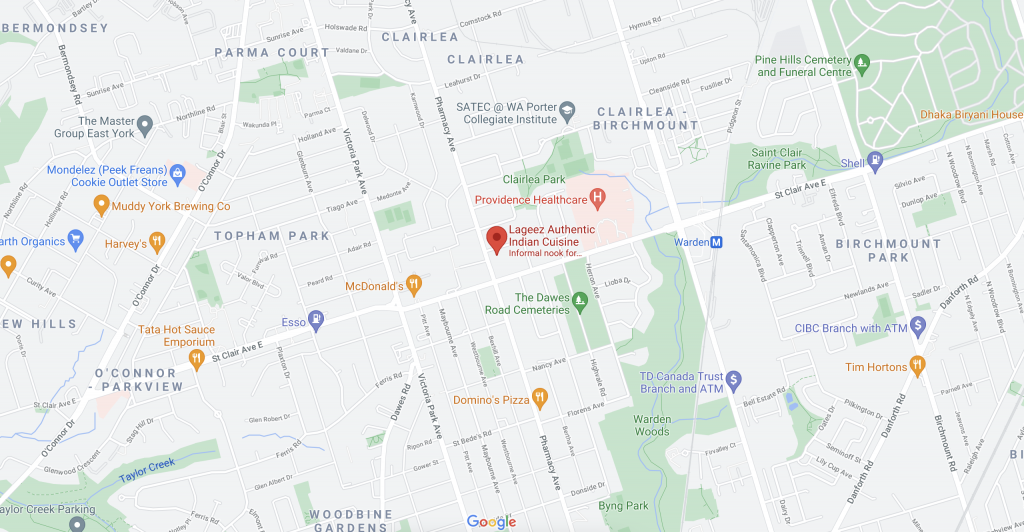 ---