Local Leaside
180 Laird Dr, East York, ON M4G 3V7
Patios have been even more popular this year due to covid-19 and the limitations of eating inside. If you want a good one to go to in midtown Toronto, you should definitely try Local Leaside, near Leslie St. and Eglinton Ave E. Local Leaside is one of Local Public Eatery's many locations across Canada and the other Toronto location is in Liberty Village. Those neighbourhoods are so lucky…
Local Leaside has 2 patios, one on each floor of the restaurant, pub, or as they put it, "your home away from home". Their patio on the second floor is my favourite because they have windows that can be opened and closed depending on the weather (we do live in Canada after all…). Local Leaside has a good vibe to it and it seems casual but is still classy.
My friend and I have been going to Local Leaside for drinks for a few years after discovering it one day. He lives close by and then we liked it so much, we kept going back. I haven't mentioned yet that they have great beer there and something called "mystery glass of wine", which is cheaper ($6.50) than the other wine, but you don't know what kind of wine it is other than it being white or red. The mystery wine I've gotten has always seemed pretty good to me (I'm not a sommelier or anything like that though) so I order it often. 😉
The food at Local Leaside is tasty. They have some of the best burgers I've ever had – The Local Burger and Deluxe Burger (look how big it is in the photo below!). I have also gotten their Blackened Chicken Sandwich, which was flavourful with a hint of smokey flavour, and their wings and Mexican fish tacos were both good as well. I want to try their entire menu! If you want a good patio, atmosphere, drink, food, and I forgot to mention, lots of TVs to watch sports games, Local Leaside is a good "home away from home".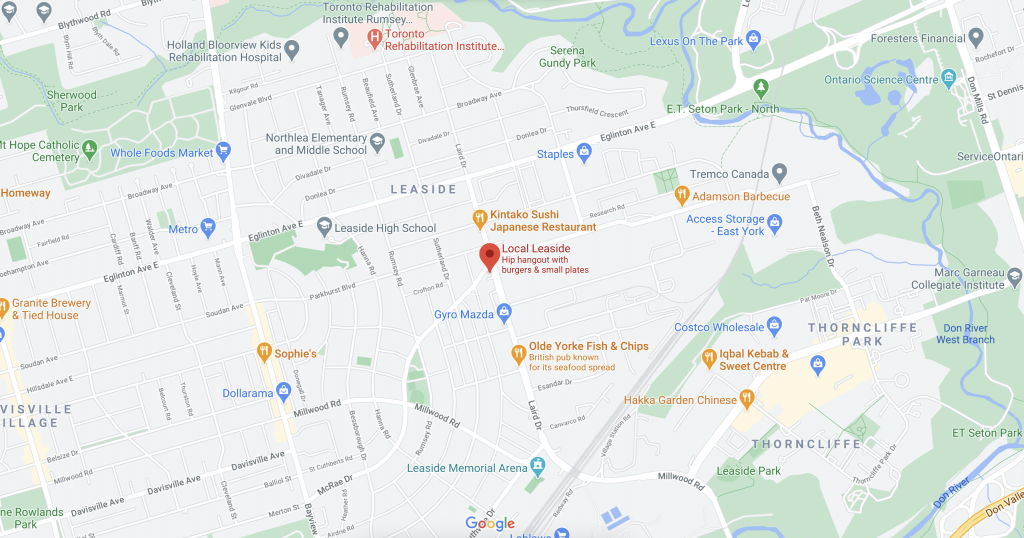 ---