Pho 88
325 Bamburgh Cir, Scarborough, ON M1W 3Y1
Who loves Vietnamese food as much as I do? It is delicious and seems healthy and wholesome in a way. Even fish sauce in small quantities is supposed to be good for you since it contains vitamins and minerals and is healthier than soya sauce. Who would have thought that sauce made from fermented fish would taste so good???
My favourite Vietnamese restaurant is Pho 88 at the Bamburgh Gardens plaza at Warden and Steeles. I used to live close by and went there regularly, then I got reintroduced to it when I worked a few blocks away, and now I try to go whenever I am craving Vietnamese food, which is often… Before the covid-19 pandemic, Pho 88 was pretty busy during lunch and dinner, but I can't remember a time when I had trouble getting a table since their restaurant can fit a lot of patrons. I'm so glad they were still open for takeout during the lockdown and they also had some tables and chairs set up outside when it was allowed.
When I go to a Vietnamese restaurant, I usually get the vermicelli or pho depending on the restaurant and the season. Even though I love the rare beef and tripe pho, I find it too hot to have in the summer, but it is the perfect meal when it is cold outside or if you are not feeling well. The vermicelli served at Vietnamese restaurants is my favourite though so I almost always order it when I go to Pho 88.
The last time my husband and I went to Pho 88, we both got the vermicelli with shredded pork and a spring roll, but I chose the grilled pork and my husband chose the grilled chicken. The time before that, my husband got the grilled pork chops with rice and I got the…you guessed it, the vermicelli. Their grilled meat is flavourful, their spring roll is delicious and their noodles remain my favourite Vietnamese vermicelli noodles. I like how Pho 88 uses thicker noodles, which I prefer. Top that off with their fish sauce and "Wow!".
As you can tell, Pho 88 is my go-to restaurant for Vietnamese food. All of this talk about Vietnamese food is making me crave it now… Vietnam is even on my list of future travel destinations so I can try the food there one day. I know it will be delicious; that's pho sure. Too cheesy? 🤭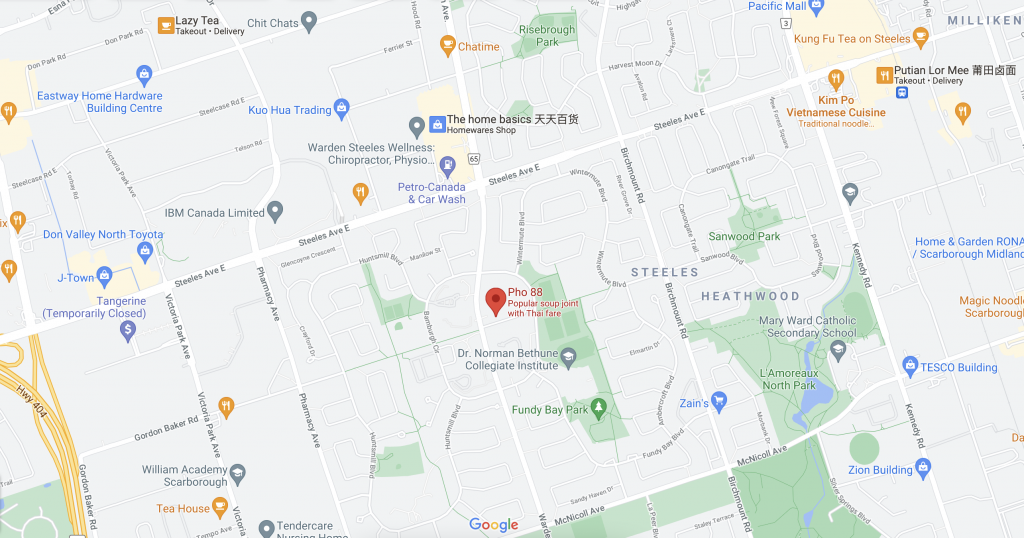 ---