Poke Guys
8110 Birchmount Rd #10, Markham, ON L6G 0E3
Maybe I just wasn't aware of poke before I went to Hawaii in 2014, but poke bowls seem to be pretty popular in the GTA the last few years. Imagine sashimi on top of rice along with a bunch of amazing toppings and sauces. Sounds really good right? Poke in Canada obviously isn't as good as it is in Hawaii, but Poke Guys has some of the best poke bowls I've had in the GTA.
Before I elaborate more about Poke Guys, I would like to rave for a paragraph about Hawaii. My cousin and I went to Oahu, Hawaii in December of 2014. Before travelling there, I always wondered why everyone loves Hawaii. Now I know…Hawaii has it all – beautiful scenery, the clear blue Pacific ocean surrounding it, a sophisticated economy, and delicious food. If you go to Hawaii, you should try the poke, plate lunch, and shaved ice. So yummy! Ok, back to Poke Guys…
When I first went to Poke Guys a few years ago, they only had their downtown location, which is near the Eaton Centre. I was pleased when they opened a second location in Markham by Birchmount Rd, north of the 407. I brought my husband there recently because I was craving something "healthier" due to the covid-weight I've gained and he has never tried poke before (we found out later that poke isn't his cup of tea).
I ordered the Mauna Loa (Volcano) Bowl and my husband got the PG's Bowl. The size of the empty bowls is deceiving…I got the large but should have gotten the regular size because I could only finish half of it. The toppings, which consisted of spicy shoyu salmon, spicy seaweed, spicy cucumbers, edamame, masago, fried onions, and jalapenos (can you tell I love spicy food? 😂), made the poke bowl rich and savoury. The PG's Bowl was not as rich or savoury since it didn't have the spicy mayo, but it was still good and flavourful.
Can you believe both poke bowls still tasted good the next day (yup, I had to eat my husband's leftovers too, which meant more for me 😉)? Poke Guys gets a thumbs up from me!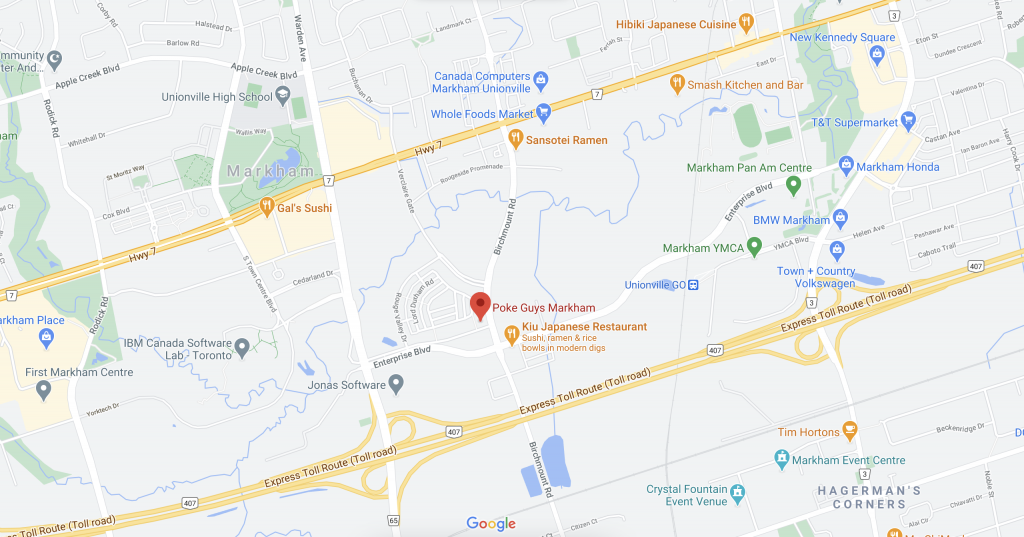 ---