Scrumptious
700 Elgin Mills Rd E, Richmond Hill, ON L4C 0H8
"Scrumptious" is a word I should use in my blog articles as a synonym for "delicious" when describing the food I've tried and loved. It makes you almost salivate for the food it is describing when you hear or read it. That is how Scrumptious in Richmond Hill caught my eye on a Saturday morning. It is a pretty awesome name for a restaurant! I asked my husband to Google how many stars Scrumptious got as we drove past it (since I was driving). As soon as he said 4.3 from almost 400 reviews, I asked him if he wanted to go there for breakfast after we finished with our errand that morning. As you can probably tell by now, I am a sucker for unassuming restaurants that have great reviews.
When we entered Scrumptious later that morning, it was packed but we were seated within a couple of minutes of our arrival. I was surprised because I haven't often (maybe ever) seen a Western all-day breakfast restaurant run by people of Chinese ethnicity in the Greater Toronto Area. I am not sure why that is…maybe because I don't eat breakfast out or outside of the City of Toronto enough. 🤔
The prices of the items on the menu were reasonable as I had expected them to be due to the restaurant's popularity. I ordered 3 eggs with bacon and french fries for $9.99. My husband got The Big Breakfast, which includes 4 eggs, 2 sausage links, 2 strips of bacon, 2 slices of ham, 2 buttermilk pancakes, and home fries, for $13.99. Although the food at Scrumptious was simple (since it's breakfast food), it was cleanly cooked and tasty. The bacon was crispy, the eggs were fresh, the fries were tasty and the buttered toast was unique. My husband wanted to save some of his breakfast so he could enjoy it later and that is rare for him.
Impromptu finds of good restaurants seem more rewarding than the ones you find through research and Scrumptious was a good find. It is a bustling restaurant that is clean, has efficient service, and serves scrumptious food. 😉 What else can you ask for when you want to enjoy breakfast and don't want to cook it yourself?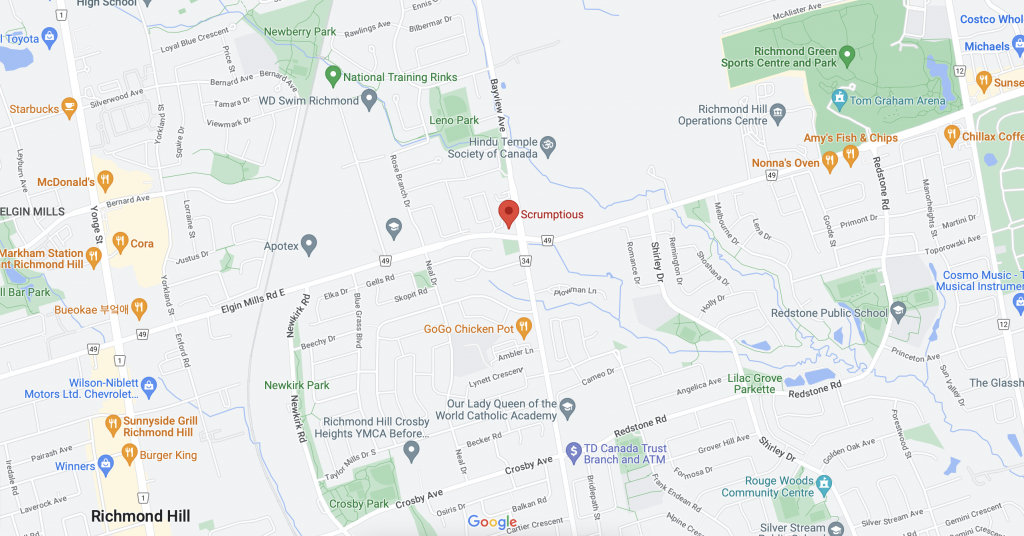 ---