SumiLicious
5631 Steeles Ave E #5, Scarborough, ON M1V 5P6
Like most of the restaurants I've tried recently, SumiLicious came up in some Google searches of best food in East Toronto. I managed to convince my husband to go there for take-out with the promise of a Portuguese-style chicken sandwich. Let me tell you though, it was somewhat of an adventure for us when we went to get food from SumiLicious…
The first time we attempted was a "fail". We didn't know where it was located in the Milliken Crossing plaza at Middlefield and Steeles so we were driving around the parking lot looking for it. Then all of a sudden, we started hearing a scraping noise. My husband checked underneath my car and didn't see anything at first, but then he noticed the pylon. Life lesson: it's easy to drive over a pylon, but extremely difficult to get the pylon out from underneath your car. 😐 Long story short, I had to reverse my car up onto the curb in the parking lot so that there was more space for the pylon to be unwedged.
Then to make things worse, stupid me, I had forgotten to check whether they were even open before deciding to try their food that evening. Note: They are not open after 7 pm. Needless to say, the pylon fiasco was all for nothing because we couldn't even get into SumiLicious…
Not one to give up though, we tried going there again the next day for lunch. This time, we made it! I usually prefer turkey or chicken breast when I eat lunch meat, but I wanted to try what they are known for – their Montreal-style smoked meat. Unfortunately for my husband, we found out that you have to order the chicken sandwich 20 min beforehand and we didn't feel like waiting so he ordered the smoked meat sandwich as well. We also got the regular poutine to share.
SumiLicious makes good food… Their Montreal-style smoked meat is really tender and flavourful and has changed my mind about smoked meat. They also give you A LOT of smoked meat in the sandwich. I could probably make 3 more sandwiches with that amount of meat. Their poutine was also tasty. They use fresh-cut fries and cheese curds…yummy!
I would recommend giving SumiLicious a try if you want a good, filling sandwich. The smoked meat sandwich is currently $8.99 + tax, but it is definitely worth it because of the amount of meat you get. Just remember to watch out for pylons when you're driving in their parking lot. 😉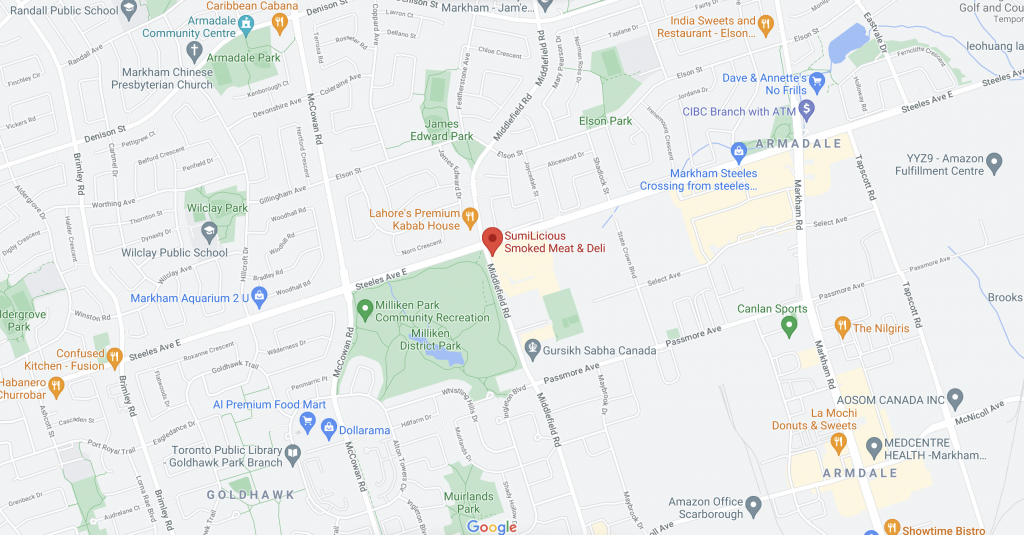 ---