TAP Sports Bar
MGM Grand, 3799 S Las Vegas Blvd, Las Vegas, NV 89109, United States
What happens in Vegas, stays in Vegas, except for good food experiences? If so, I wanted to blog a little about TAP Sports Bar… There definitely isn't a shortage of places to eat at in Las Vegas, but if you happen to be staying at MGM Grand Las Vegas, TAP Sports Bar is a good one to try.
When my husband and I went to Las Vegas in April, TAP Sports Bar was our go-to hang out spot when we didn't feel like leaving our hotel. It was cold when we were there – around 5 degrees Celsius on most nights. I blame my husband for bringing the Canadian weather with him since it was his first time there, and it is Vegas…when is it ever that cold in the spring? It was only cold when we were there and it went back up to normal temperatures after we left. I apologize on behalf of my husband.
We got to TAP Sports Bar close to when their kitchen was closing but managed to sneak in an order of their TAP Nachos. That late-night snack hit the spot with cheese sauce, queso fresco, Pico de Gallo, guacamole, sour cream, green onion, and pickled jalapeños on top of delicious nacho chips. I had them hold the cilantro since I am one of those few people who can't stand the taste. 😔 Did you read the part about cheese sauce and queso fresco though?? I find queso fresco adds a flavour and texture that is missing from the nachos at restaurants in the Greater Toronto Area (GTA). The other toppings of TAP Nachos went with it perfectly too.
Although the food and beer at TAP Sports Bar were great, what my husband and I liked most about it was the vibe. It was laid-back even when it was busy, the staff was friendly, there were lots of TVs playing sports, and it had an open kitchen. It would be awesome to live in a condo that has a bar like TAP Sports Bar in the same building. There's a snowstorm in the GTA today? No problem! I will just go to TAP Sports Bar. 😉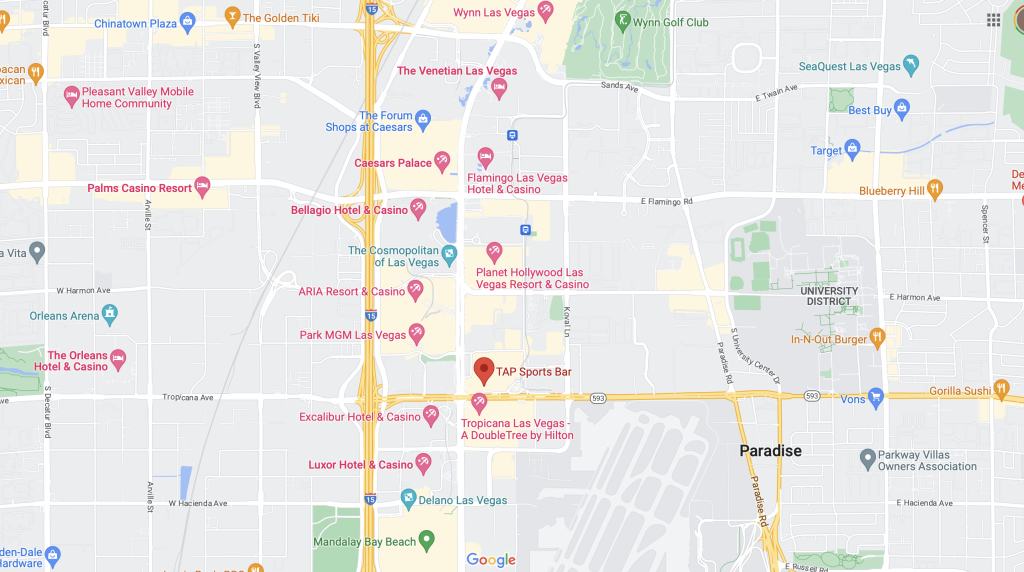 ---
Las Vegas
If you are planning on going to Las Vegas and it will be your first time there, here are some tips:
The Las Vegas strip might look small on a map, but it actually takes over an hour to walk from one side of the strip to the other. Therefore, if you are planning on staying at a hotel on the strip, you might want to stay at one of the hotels closer to the middle. For example, the Bellagio Hotel & Casino if you want to go all out. If not, there are cheaper options as well since you might just need a hotel to catch some 💤. 😉
If you take a taxi from the airport to your hotel, you can ask the taxi driver to make a stop so you can grab a case of water (and alcohol) or you can get it from the Walgreens, etc. on the strip. It will be cheaper than paying for bottles of water (or alcohol) at your hotel. Getting a case of water from the Walgreens, etc. on the strip might be cheaper than the store your taxi driver will stop at since they get a commission, but you will have to carry it back to your hotel.
MGM Grand Las Vegas was a fantastic hotel – I liked the location of it and the vibe. Head's up that if you pick it because of their Lazy River like I did, you will need to bring your own tube or purchase one there. Also, you should get there early to save a lounge chair. We went in the early afternoon and all the lounge chairs were already taken. We didn't want to pay to reserve a cabana or daybed ($100+) so we were out of luck, but the pools at MGM Grand Las Vegas were awesome!
---