Tin Cup Sports Grill
1540 North Service Rd W, Oakville, ON L6M 4A1
My husband and I were looking for a restaurant to eat at while heading home from the Niagara Region one day (because Wayne Gretzky Estates had a HUGE lineup) and decided to try Tin Cup Sports Grill since it got good reviews. I didn't realize it was at the plaza right at the Third Line Highway 401 exit; I take that exit whenever I visit my best friend in Oakville, but only noticed the Tim Hortons and Wendy's there previously.
There was a private party in the dining area of the restaurant that day so we were seated in the bar area. Tin Cup Sports Grill has a lot of TVs for patrons to watch…how did you guess? Sports. The Canada men's hockey team was playing Finland that day so that game was on all their TVs. Imagine watching a Raptors or Leafs game there…it would be pretty awesome!
Tin Cup Sports Grill has a lot of good options on their menu. After some deliberation, I ended up choosing the steak quesadilla and my husband got the handmade chicken fingers and fries. The steak in my quesadilla was perfectly medium with the right amount of spices to make it flavourful on its own. The quesadilla also had corn, pico de gallo, and jalapenos since I asked them to exclude the black beans. My husband's handmade chicken fingers included four pieces of crispy chicken. The breast meat was tender and plentiful, more than I've seen at most restaurants. The chicken also had well-seasoned batter, which tasted a little like KFC's batter with a hint of onion powder as well. The french fries that came with his chicken fingers were crispy on the outside, but soft on the inside.
My husband and I were extremely pleased with our meals at Tin Cup Sports Grill, so much so that we went back again recently and ordered the Tin Cup Nachos (boy, do they give a healthy portion of nachos!). I have to admit that I love eating at restaurants that appear understated from the outside but serve reasonably-priced, delicious food. It sure beats pretentious-looking restaurants that don't have good food, but expensive price tags. 😉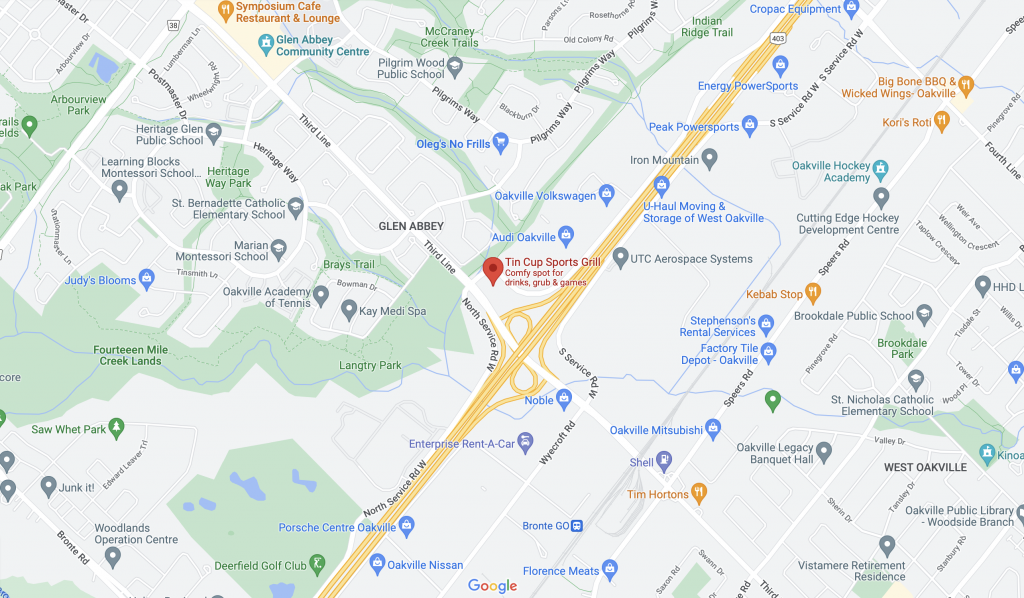 ---