Kostas Meat Market
259 Ellesmere Rd, Scarborough, ON M1R 4E4
Ok, I know I blog about Greek food a lot, but how can I resist when it's so tasty? On Valentine's day last year, I was craving Greek food as I often do so I decided to check out Kostas Meat Market at Warden Ave and Ellesmere Rd. We had been to their bakery before, which is next door, and they have delicious baked goods so I thought their meat market would also be good. Boy, was it an amazing find!!
Kostas Meat Market has many varieties of seasoned and fresh cuts of meats, souvlaki, imported cheese, tzatziki, pita bread, and much more, way more than what you would think could fit into their store from the outside. I picked up some chicken, pork and beef souvlaki, and tzatziki, all prepared by them to make Valentine's day dinner for my husband since he had to work late that day. Their souvlaki sticks are currently around $2 each, depending on if you get the pork, chicken, beef, or lamb (from cheapest to most expensive).
I used our George Foreman grill to cook the souvlaki (4 min on each side). All of the souvlaki were moist, fresh, flavourful and some of the best souvlaki I've ever had. It made me feel good about my cooking skills even though I knew it was all due to Kostas Meat Market. 😂 Their tzatziki is hands down, the best tzatziki I've ever had. It has the right amount of garlic and dill and is nice and rich, not watery like some tzatziki I've gotten from the supermarket and even Greek restaurants. I think I got some points for that Valentine's day. 😉
Since that day, we go to Kostas to get souvlaki, tzatziki, and pita bread all the time. I also got a filet mignon to make for my husband on his birthday last year. My husband likes his steak well done, but he ate this one medium-rare, which goes to show how fresh the meat is. It was also very tender and tasty. There are many different types of meat from there to still try, but it is difficult because I always want to get their souvlaki. I never had a butcher before, but now I finally do…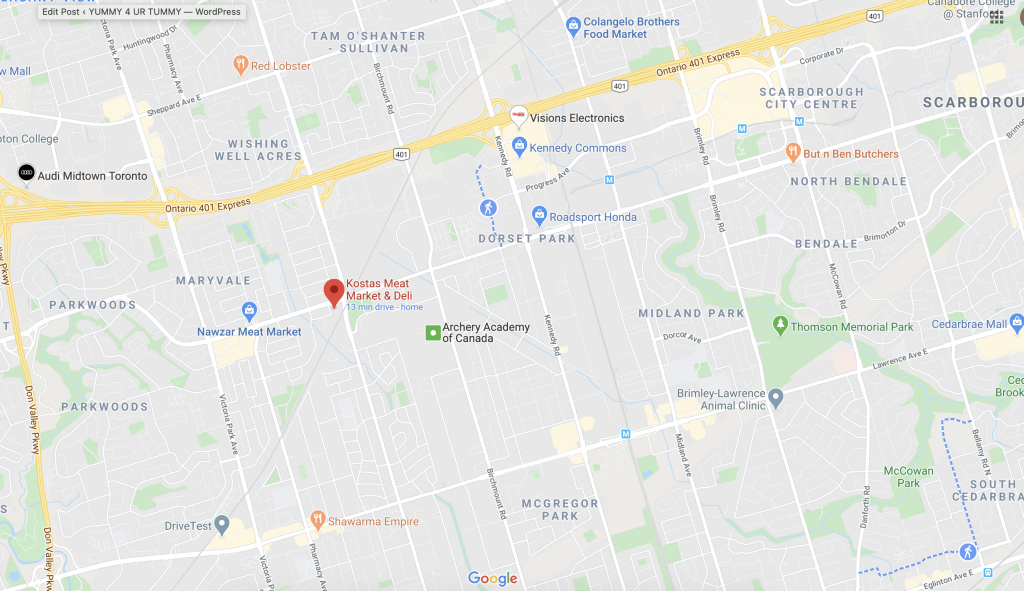 ---
If you want to read about other amazing souvlaki I've had, check out my Lucky's Souvlakis blog post.
---