Lucky's Souvlakis
Dekigala, Thira 847 00, Greece
When my husband and I went to Greece in late September/early October 2019 for our honeymoon, we didn't plan which restaurants to go to except one – Lucky's Souvlakis in Fira, Santorini. When I was researching the cities we would be visiting while we were there, I kept noticing Lucky's Souvlakis on food reviews and I love good, cheap eats so I wanted to try it.
I was pretty upset the day before because we were supposed to take the ferry from Crete to Santorini in the morning, but when we got to the ferry terminal, we found out that all the ferries to Santorini were cancelled for that day. Determined to not lose a day in Santorini, we researched all the options we could think of for getting there that day but had no luck. I even got some quotes for taking a helicopter, but it would have cost us $5,000 so we ended up losing one of our two days in Santorini. 🙁
It got better when we arrived in Santorini and decided to rent an ATV to get around the island quickly (much more quickly than waiting for the bus or my plan for us to walk from Fira to Oia) since we only had one day there. Driving the ATV around the island was so much fun; I would definitely recommend it!
The first place we stopped at in Santorini after our hotel was Lucky's Souvlakis. The restaurant is not huge but it has a good number of stools for people to sit along the counter or at their tables. Most people seemed to get the food to go anyways.
I got the chicken gyros pita wrap and my husband got the pork souvlaki pita wrap. They were sooo yummy, fresh, and flavourful! To top that off, they only cost 2.60 euros each. If you think Greek food is good back home, imagine it is fresher and 10 times better. That is how the food is in Greece – amazing!
The food was so good at Lucky's Souvlakis, we went back again that night after watching one of the world's most beautiful sunsets in Oia, Santorini. We ordered some beer the second time around and we got a chance to chat with the owner for a bit who was super friendly. FYI, he likes Canadian hip-hop because it's music you can dance to. 😉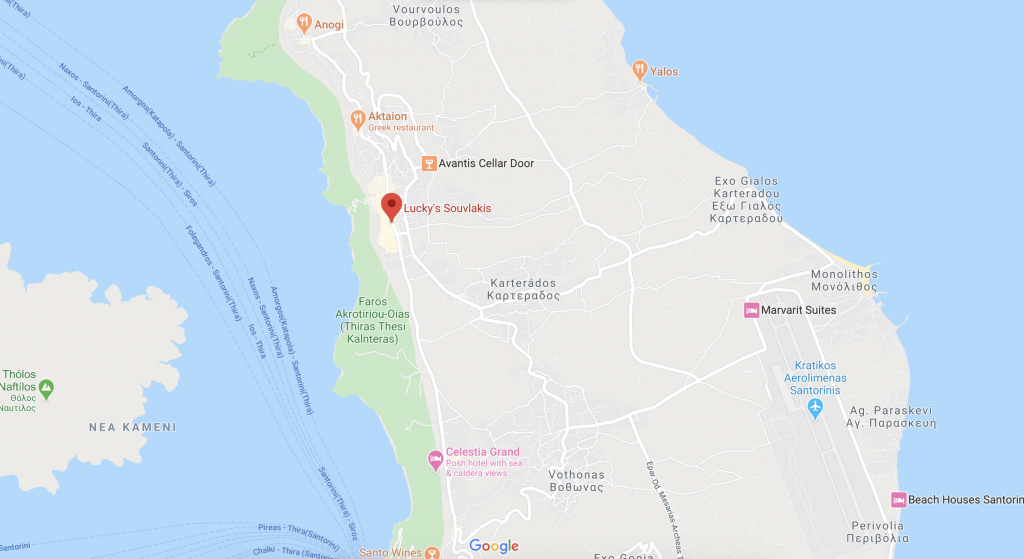 ---
Santorini
For those of you who are planning on going to Santorini, here are some tips:
If you are taking the ferry to Santorini, check the schedule for cancellations and give yourself an extra day in Santorini in case there are cancellations.
Renting an ATV is a fun and convenient way to get around the island, and it's not too expensive either. Some of the ATV rental places will bring the ATV to your hotel for you and you can leave it at the hotel for them to pick it up when you are done.
If you are planning on watching the sunset in Oia, ensure you find a good spot at least 45 min before the sun will set because it gets really packed.
The Santorini airport gets really busy due to the number of tourists travelling to and from Santorini. They are building another airport to handle the volume, but until then, try to arrive there at least 2.5h before your flight time to ensure you have enough time to get through security. Most of our flight boarded right when our flight was supposed to take off even though we were there 2h beforehand because of how long the lines were.
---
Please visit my Patridogevsia blog post for tips if you are planning on going to Samaria Gorge in Chania, Southwest Crete .
---