The Upper Deck Taphouse + Grill
210 Martindale Rd, St. Catharines, ON L2R 6P9
My husband and I rode our electric scooters on the Niagara River Recreational Trail to visit some wineries in Niagara last weekend. It was just as fun as when my friend and I rented e-bikes a couple of months ago and rode on the same trail. On our way home, my husband and I wanted to grab some food so he looked up some restaurants that were along the way. The Upper Deck Taphouse + Grill in St. Catherine's sounded good (perhaps it was because it had "Taphouse" in the name…) so we went there.
When we arrived, I asked my husband how many stars it got on Google reviews. I just thought it was a little strange that there were a number of cars parked outside but no one was sitting on their patio in the summer. We found out why when we went inside to get a table – they also have a back patio that has a pretty nice view. It overlooked tree-covered hills, which would look amazing in the fall when the leaves are changing colour. Almost all their patrons were sitting out there and we managed to snag a table as well.
My husband and I were already happy thus far with The Upper Deck Taphouse + Grill, but it only got better from there. Our waitress informed us of their happy hour from 2-5:30 pm, which included $5 pints of beer and glasses of wine. I ordered some red wine and my husband got a pint. Then my husband asked the waitress if they have a washroom so he could wash his hands and the waitress said "No, you will have to pop a squat over there". 😂 Scenic view + alcohol + great service + humour…only good food can make it even better, and it did!
I ordered the chicken & brie sandwich and my husband got the Upper Deck burger. The sandwich was flavourful with the melted brie, guacamole, and Sriracha mayo on the chicken breast. I rarely ever talk about the bread of a sandwich, but their bread was perfectly buttered and toasted, and the garden salad I got with my sandwich was fresh. It was a delicious meal and my husband's burger and fries were also really good. They don't seem to use any filler in the burger and it is made with fresh, lean ground chuck.
My husband and I were really impressed by The Upper Deck Taphouse + Grill. If you ever want a nice restaurant close to Niagara that has cheap drinks during happy hour and good food, I would suggest going there. I guess I have to give my husband a point for this find but who's keeping score? 😉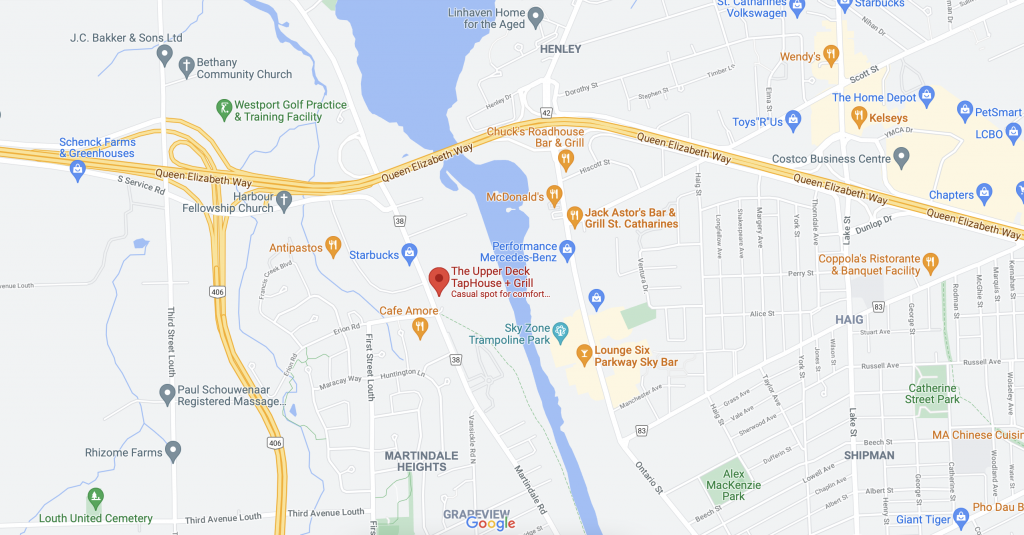 ---
The Niagara Region
For those of you who are planning on going to the Niagara Region, here are some tips:
If you want to try out an electric bike and easily get around the Niagara Region at the same time, I would recommend renting an e-bike from Snap E Bike Rentals. It is located in downtown Niagara Falls and is close to the Niagara River Recreational Trail so you can easily ride to Niagara-on-the-Lake to visit the wineries there. The owner of Snap E Bike Rentals is very knowledgeable about electric bikes; he is also hospitable and even offered my friend and I free cold water and trail mix to bring on our ride. You can rent an e-bike for 4 hours for $75 or all day for $99. I was surprised at how long the battery of an e-bike lasts with mild pedaling and I managed to reach up to a speed of 32km/h when I was pedaling quickly and using the highest level of pedal-assist. Riding an electric bike around the Niagara Region was a lot of fun, so much so, that my friend and I are going again with our group of friends in Oct.
I have always liked Inniskillin wine, but the patio at the Inniskillin Niagara Estate in Niagara-on-the-Lake is pretty awesome so they get more points for that. Their patio seats a good number of people and we were glad that they let us bring our electric scooters to our table since we can't lock them up like we would be able to with e-bikes. When my husband and I looked at the menu, we shockingly realized that their bottles of wine were really cheap. They charge the same price for the bottles on their patio as in the store. How awesome is that? We ordered a bottle, a whole bottle, of their Niagara Estate Series Pinot Grigio for $15.45 and also got their truffle fries for $5. We were fully expecting a small amount of fries, but they actually gave a good amount of tasty fresh-cut fries with aioli on the side. Our bill came up to slightly over $20 + tax. 😎
---
Please visit my Beaver and Bulldog Sports Pub and Wingery blog post for tips if you are planning on going to Collingwood, Ontario.
---