Beaver and Bulldog Sports Pub and Wingery
195 First St, Collingwood, ON L9Y 1A6
It had been a while since we've been to the Collingwood area so my husband and I decided to go for a day trip when we had some days off work this month. For those of you who don't live in Ontario, Collingwood is known for being near the ski hills at Blue Mountain and in the summer, Wasaga beach. There are also wineries and breweries nearby so guess what we did? We tried to go to a couple of them, but apparently, we needed reservations so we weren't able to get in.
After riding our electric scooters on the Georgian Trail, which has an amazingly straight trail that even overlooks Georgian Bay at some points, we were hungry and went to Beaver and Bulldog Sports Pub and Wingery for some food and drinks. It was close to one of the entry points of the Georgian Trail in Collingwood, had good reviews, and has "pub" and "wing" in the name so how could I refuse? 😉
Beaver and Bulldog has an extensive menu so it was difficult to choose just one item to order. That's why when my friends and I go out to eat, we usually order a bunch of different dishes to share…so we can try as much of the food as we can. I decided to be singularly greedy this time though. I (finally) decided to order the rib & wing combo with the mar par flavour for the wings and my husband got the Buffalo Bulldog 2 Hander. If you read my Bollocks Pub & Kitchen post, you already know that it is rare for my husband to not order the burger.
I was not expecting it, but the food at Beaver and Bulldog was sooo good! The ribs were covered with a tasty BBQ sauce and they were fall off the bone, and the wings were perfect and might have been the best wings I've ever had. The skin was crispy and not fatty at all, and the mar par flavour was delicious. I usually get the spicy gar par so it was supposed to be equivalent, but it tasted so much better. The fries were fresh cut and cooked just right, and even the vegetables were tasty with a garlicky butter flavour to them. My husband's buffalo chicken sandwich was also tasty – the chicken breast was nice and moist even though it was flatter (size-wise not taste-wise) than other ones I've had. The customer service there was memorable since our waiter was prompt and courteous.
I can continue raving about Beaver and Bulldog Sports Pub and Wingery, but you should probably try them for yourself if you are ever in town to ski or swim. I don't think it will disappoint.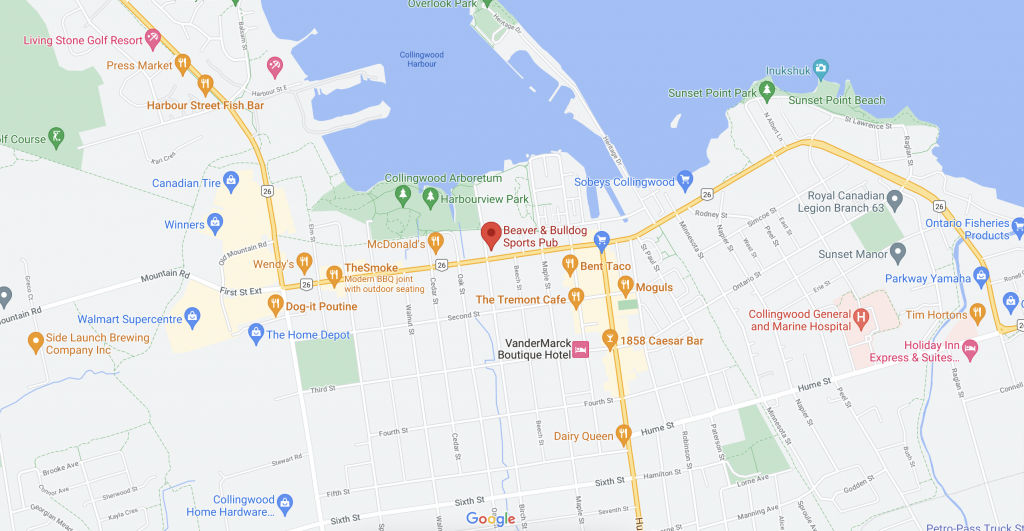 ---
Collingwood Area
For those of you who are planning on going to the Collingwood area, here are some tips:
If you want good wine, you should go to The Roost Wine Company. Make reservations beforehand though because it's reservation only, which was similar to Black Bellows Brewing Company and we didn't want to wait for an hour so we didn't end up getting in there either. The view is pretty awesome because it is located on a picturesque hill that overlooks Georgian Bay. We did manage to get a tasting pack of wine to go from The Roost Wine Company and because we were disappointed that we couldn't have a glass of wine there, we weren't really expecting much. Boy, were we surprised! Each and every wine in the tasting pack was delicious. It might be one of my favourite Ontario wines now. I also like how their slogan is "two wrongs make a white".🥂
The Georgian Trail is a 34km trail along the south coast of Georgian Bay and runs between Collingwood and Meaford. It is a pretty straight, flat trail and most of it has hard-packed crushed stone. Some of it even has great tree coverage so you won't get hot from the sun. I like how there are little side trails you can explore off the main trail. People were riding their bikes, running, or walking on the trail, but as mentioned above, we went on the trail with our electric scooters and it was pretty awesome, especially the parts where we could see Georgian Bay.
---
Please visit my The Upper Deck Taphouse + Grill blog post for tips if you are planning on going to the Niagara Region.
---